We have been breeding pure Shetland sheep in West Wales since 1993. Our farm is situated on a plateau above the beautiful Teifi Valley – the River Teifi is the only river that completes its journey from source to the sea in Wales. Our natural pastures produce a wonderful and plentiful supply of grasses and clovers for our sheep to enjoy.

Our Shetland sheep are all pedigree and registered with the Shetland Sheep Society.

Shetland sheep are a fairly small easily handled sheep suitable for the smallholder or first time sheep owner as they can be trained to follow a bucket of food which helps with handling when tasks need to be carried out, e.g. hoof care and worming.

Shetlands were known to have been on Scottish Islands at least since the 6th Century. They belong to a group of sheep known as European northern short-tailed so as the name implies their tails are short and are not docked.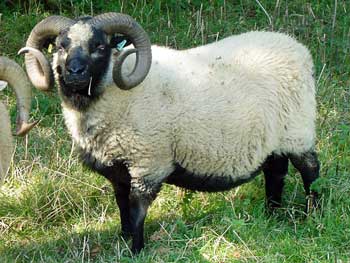 Shetland ram
Shetland sheep have the finest fleeces of the British breeds of sheep and come in a variety colours: browns, greys, white, black, and with colour variations within a fleece. The colours and distinctive patterns on the sheep have been given particular names by the Shetland Islanders and more information on this subject can be found on the Shetland Sheep Society website. The beautiful natural colours of the Shetland fleece are of interest to hand-spinners and crafters, who are able to mix and match in so many ways to give a delightful result to a project.

Shetland rams usually have horns, although small 'scur' horns can occur, and these are of particular interest to persons nervous of horned rams. Shetland ewes are usually polled, although we do have some ewes in our flock that carry a female horned gene, but these horns are considerably smaller and very different to the horns of a ram.

Shetland ewes produce a single lamb, twins or triplets. Lambs intended for meat take longer to mature than modern commercial breeds of sheep, but the meat is very tasty as is the case with most ancient breeds.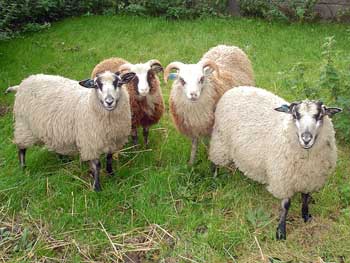 Shetland sheep
ALWAYS FOR SALE
Ewes
Rams
Weaned ewe lambs
Weaned ram lambs
Prices given on application.
CONTACT US TO ORDER
In-lamb ewes and ewes with lamb(s) at foot are sometimes available.
Details can be given on application.
Three Generation Pedigree and Care Instructions provided on sale.
All our Shetland sheep have been fully vaccinated.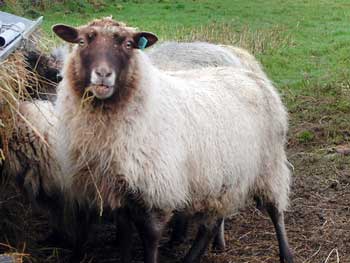 Shetland ewe
Copyright © 2000 -