We have been breeding pure Icelandic sheep in West Wales since 1993. Our farm is situated on a plateau above the beautiful Teifi Valley – the River Teifi is the only river that completes its journey from source to the sea in Wales. Our natural pastures produce a wonderful and plentiful supply of grasses and clovers for our sheep to enjoy.

Our Icelandic sheep were all pedigree and registered with the British Icelandic Sheep Breeders Group. They are a docile breed and are suitable for the smallholder who wants a handsome sheep that produces a beautiful fleece and tasty meat. They can easily be trained to follow a bucket of food which helps with handling when tasks need to be carried out, e.g. hoof care and worming.

Icelandic sheep have a double fleece – a soft underfleece called 'thel' and a long hairy top fleece called 'tog'. 'Thel' and 'tog' are Icelandic words to describe the fleece. The fleece is highly prized by hand-spinners. It is also popular for felting and peg-loom work.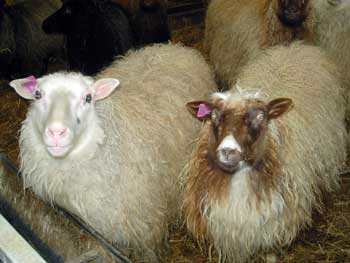 Icelandic sheep
Fleeces come in a variety of colours. Light and dark browns, dark and light greys, white, and black. The colours are not necessarily one self colour. A fleece may contain a combination of, say, shades of grey, shades of brown, black with grey, or patches of colour on white.
Icelandic sheep are part of a group of sheep known as European northern short-tailed and as the name implies, they have short tails so tails are not docked. Both males and females can be horned, polled, or have small 'scur' horns. The ewes produce a single lamb, twins or triplets and have also been known to have quads. Lambs intended for meat take longer to mature than modern commercial breeds of sheep, but the meat is very tasty as is the case with most ancient breeds.
We have now ceased breeding pure Icelandic Sheep although our Icelandic knitting wools are still available. Please see details under
Yarns
.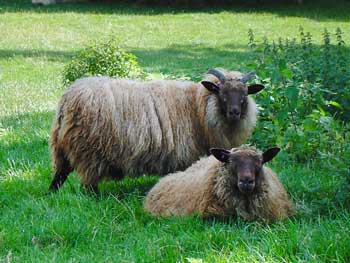 Icelandic sheep
Copyright © 2000 -